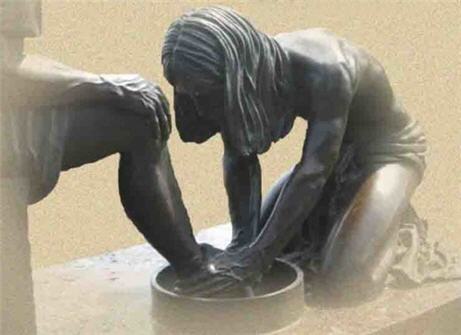 "In your relationships with one another, have the same mindset as Christ Jesus: Who, being in very nature God, did not consider equality with God something to be used to his own advantage…" Philippians 2:5-8 (NIV)
During our Life group study on pride and humility this was a portion of the chapter we were discussing. Paul is talking to the church about their life and witness, how they should live. And the whole point of this attitude is that others will see Jesus in us and choose him as Lord. In fact, this often-used section ends with "that at the name of Jesus every knee should bow, in heaven and on earth and under the earth, and every tongue acknowledge that Jesus Christ is Lord, to the glory of God the Father."
My leader went on to remind us of the fact that from the very beginning, Jesus was, and he chose to come. (John 1:1) He is God. He is eternal. He commands the wind and waves. He restores life to dead bodies. Even when he walked on earth he was God AND Man.
When I read, the story becomes a movie. So, for the next 30 seconds to a minute the bible study faded away and I imagined a conversation between Father and Son where they were talking about their plan for creation and us.
"It's no good to make them love us."
"I want the relationship, the interaction, the questions, the "I love you, Abba".
"Most definitely."
"We'll give them the choice."
"You know they'll think they can manage on their own."
"Yep."
"It's going to go badly."
"Yep."
"What if we made a covenant? A system of laws, rewards and sacrifice?"
"That will teach them who I am and who they are. It will help somewhat."
"It's not enough, is it."
It's going to take more than a furry or feathered sacrifice to restore the relationship. It's going to take… You."
Silence
"If that's what it will take, I'll go."
What a commitment! What a sacrifice! He loves us so much that He (God) was willing to give up His Son! He loves us so much that He (Jesus) was willing to surrender his omnipotent and infinite nature as God the Son and he became the servant. Can we even begin to grasp what that means? Jesus was willing to become human, the created thing, be born as an infant, totally dependent on earthly parents. He was dirt poor, ridiculed, mocked, argued with, lied to, hungry, beaten….
And then it hit…what if I had that attitude? What if I wanted my neighbor, friend, or enemy to know Jesus so much that I was willing to say, "If that's what it will take…" What would that look like in my life? What would that look like in our church? What is more important to me- my reputation, my safety, my comfort, my pride, being treated with respect, or another person learning to know about King Jesus and how much he loves them?